Cogeneration – also known as combined heat and power – is an innovative system that fights high-energy costs, carbon emissions, and energy loss. We offer professional, experienced cogeneration services for our commercial and industrial clients.
How Does It Work?
Cogeneration functions by combining electricity production with usable heat. During the power-generation process, we capture and utilize otherwise-wasted heat energy into a boiler or heat exchanger.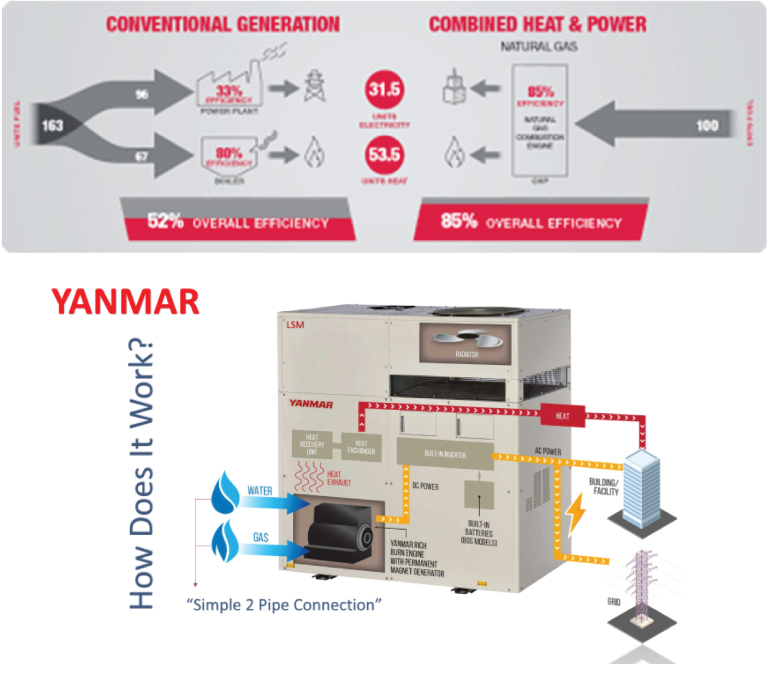 Cogeneration: Save Money, Reduce Carbon Emissions
Because cogeneration captures otherwise useless heat energy and reuses it, this service can help reduce energy costs. It can also greatly improve the efficiency of your system by up to 40%.
For commercial and industrial clients, this drastically reduces overhead operating costs. When properly implemented and planned by LSM, cogeneration offers solutions to costly problems.
For more information about cogeneration or to discuss our services with one of our expert team members, please call our Alberta or BC offices or visit our Energy Solutions website using the button below.
"More than solutions, we are experts"
Alberta Office: 780-532-4418
B.C. Office: 250-876-1666
www.lsmenergysolutions.com
How Variable Refrigerant Flow Works
Using a natural gas-powered engine to drive dual scroll compressors, Yanmar's Variable Refrigerant Flow (VRF) Heat Pump can maintain powerful heating performance, even with low outdoor temperatures, by capturing heat off the unit's engine to increase efficiency. Our heat recovery technology loves the cold, effortlessly providing heat in the freezing cold. The unit is not afraid of extreme heat either, easily cooling a building during warmer months. Not only do our VRF units withstand some of the toughest temperatures Mother Nature can deliver, they do it with supreme efficiency. The cost of operating the compressor in our outdoor units is 1/10 the cost of that of a standard electric system, resulting in hundreds to thousands of dollars of savings in electricity costs.