Air Conditioning Installation and Other Commercial Services in Grande Prairie
Looking for someone big enough to handle all your building's needs and small enough to care? At LSM, we serve our commercial and industrial clients by using a team of experienced, qualified individuals. We serve every project – from HVAC installation, maintenance, and service to plumbing, manufacturing, cogeneration, mechanical or electrical services, based on our years of industry-specific experience of delivering excellent results.
LSM also provides you with effective air conditioning installations in Grand Prairie, as well as its repair and maintenance services to help you keep your commercial and industrial setting at the optimum temperature. No other technology in the world has transformed our life quite like air-conditioning. Being comfortable inside a consummately chilled office even on a sweltering day is no longer seen as a largesse as most industries and offices are installed with some form of an air conditioning unit.
Large-Scaled Commercial & Industrial Projects
Fully-customized fabrication and manufacturing for small to large companies and industries are available at LSM. For all projects, trust our experienced team to deliver elite results. LSM has worked on immense, multi-million dollar projects, and has also handled smaller, more intricate jobs for commercial clients.
Commercial & Industrial Services Offered:
Air to Heat Exchangers
Boiler
Building Automation Systems
Commercial Chimneys
Cutting & Braking
Diffusers
Fans
Fire/Smoke Dampers
Fume Hoods
Furnaces
Grilles
HVAC Controls
Hyronics
Indoor Air Quality Checks
Make-Up Air
Radiant Tubes
Unit Heaters
For more information on the services, visit our manufacturing services page or contact us today.
Easy Installation and Repair
Typical industrial manufacturing activities such as metal casting, molding, malleableizing, cutting, mineral coating, galvanizing, plastic recycling, and packaging emanate large amounts of heat. A steadfast cooling solution is required to keep the temperatures of the facility in check to sustain productivity and ease. We can provide you with complete air conditioning installation in Grand Prairie, along with its repair and maintenance as per the specific needs of your business establishment or warehouse. Contact us today to know more about our customized cooling solutions.
Why Choose Us for Industrial and Commercial Air Conditioning?
We built our business on our commitment to service excellence. The reasons to hire us for air conditioning installation in Grand Prairie and other services include:
Quality: We maintain a firm policy for excellence in workmanship and performance.
On-time completion: We have continuously proven our ability to perform and complete the work on time.
Proven construction management: Our competent project management is evident in our ability to work under competitive conditions.
In-house engineering: We employ a standard of performance and execution that requires excellent technical knowledge and expertise.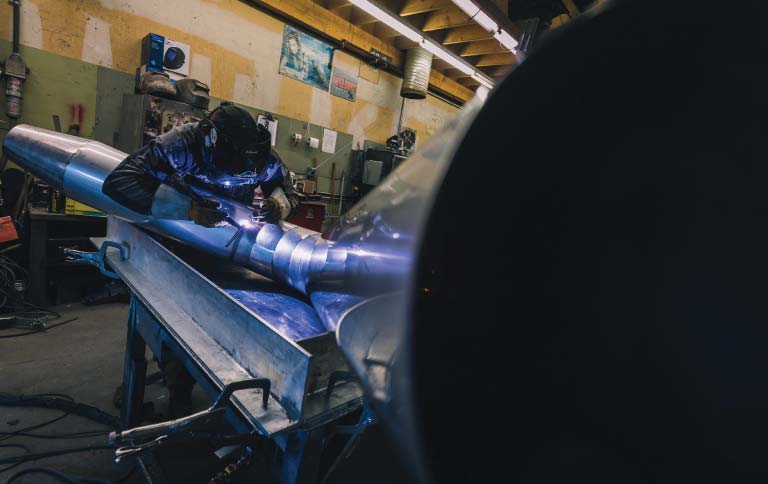 Quality Work, Competitive Price
With experienced staff comes quality workmanship. At LSM, we send a fully licensed Red Seal journeyman and workers to jobs as necessary. This allows us to complete all HVAC, electric control, in-floor heating, water heating, and plumbing on any job as well, at competitive prices.
And we do it all for a competitive price.
We Serve Grande Prairie & Beyond
Our large staff has regularly travelled to Peace River, Fort St. John, and Grande Cache to complete commercial and industrial projects. Some of our clientele include Ainsworth, Canfor, J.V. Driver, Pembina, CNRL, Tourmaline, Terrivita and Weyerhaeuser.