Professional RESIDENTIAL Heating & Cooling SERVICES IN GRANDE PRAIRIE
Your home should be designed for comfort and efficiency. This includes the proper installation of its core features, such as furnaces, air conditioning units, garage heaters, boilers, and more. Without proper installation, these pieces of equipment can require costly service, repairs, and replacements. At LSM Lee's Sheet Metal, we specialize in both installation, repair and maintenance of these vital appliances. Our skilled team assesses current equipment, performs a heat-load calculation, designs ductwork layout and analyses blueprints when applicable.
An LSM Home Comfort Advisor is available to visit your home and provide a complimentary quote on furnace replacement and air conditioning installation/replacement with Lennox Products.
Residential Plumbing Services:
Installation of water heaters include on-demand, power vented and chimney vented
Other Services Provided:
Legal suite HVAC
Basement development and indoor air quality.
Garage Heater installations
Gas fitting
Humidifier installations.
We provide in-house electricians for our installations.
Having provided installations in Grande Prairie since 1964, we have a team that is guided by values shaped by over 50 years of expertise and customer satisfaction. With the aim of offering a fulfilling customer experience, our expert team gets your repair requirements diagnosed quickly and accurately so that the problem is contained, and the damage is decreased. Contact our team today for after-hours emergency services.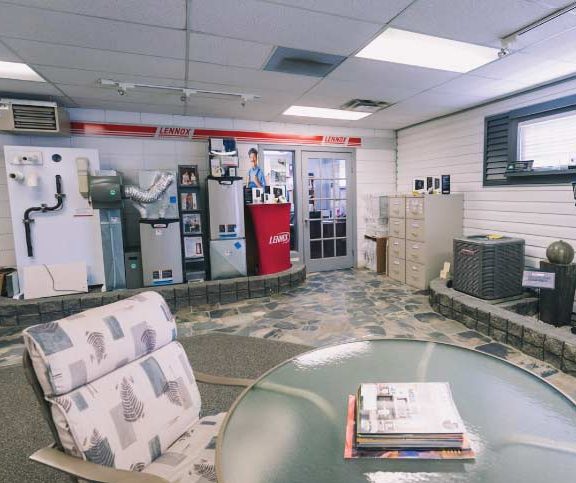 Service & Repair
When your furnace, air conditioner, etc. stop running properly or break down, let us help diagnose and repair your devices and attachments. Our experienced technicians are highly trained in a variety of brands, manufacturers, and models to provide quality service irrespective of your device.
When the first heatwave of the season hits you become dependent on your air conditioner to keep you cool and relaxed. LSM has the expertise and knowledge needed for efficient maintenance and repair of your air conditioner.
Energy Star advised that after 15 years of age the older mid-efficient furnaces and air conditioning units when replaced with new high-efficient units cam reduce your monthly bills: 15% mid -efficient up to 35% standing pilot
Repair bills start to add up and become more frequent.
Older units begin making irregular noises.
Decrease the excessive dust in your home by upgrading your filtration.
Increasing humidity levels create added comfort decrease dust and preserve wood products.
Inconsistent heating or cooling throughout your home.
Things To Consider:
To meet the new Energy Star standards, replacement furnace must be 90% or higher efficiency with an ECM or DC lower motor. Lennox and LSM offer innovative products which meet and exceed both Energy Star and Canadian standards.
Warranty: Lennox provides a 20 year plus warranty on heat exchangers and up to 10 years parts backed by LSM's one year labor.
Enhanced comfort: The new Lennox models provide multiple heating and cooling levels which provide a more precise temperature control, better humidi8ty control and constant flow of conditioned air.
Improved air quality: Lennox offers particulate filtration and chemical control options.
Seer Rating: With SEER ratings up to 25 Lennox will have an air conditioning model available for every budget
Environmentally friendly refrigerant: Lennox models use the R410A chlorine free refrigerant.
Savings: Lower utility bills with Lennox high efficient, ECM or DC furnace models and air conditionings units with up to 25 SEER.
Peace of Mind: After installation support and customer care provide worry free heating and cooling backed by Lennox warranty and LSM 24 hour Service plus our written in stone money back guarantee.
Quality Control: Lennox quality products and LSM installation combine to provide our customers with a safety oriented team, who are principal driven to put our customers and their homes first.
Thermostats: Keeping up with technology, we offer a selection of Wi-Fi enabled thermostats and smart thermostats. Our Icomfort series are compatible with Apple and Android devices.
We also offer digital and programmable thermostats for the users who wants to keep things simple.
Planned Service
Stay ahead of your repairs. Our planned service program is a scheduled maintenance service that allows us to catch breakdowns before they happen.
Our technicians will visit your home on a schedule that fits your life to inspect, clean, adjust and lubricate your equipment. Besides avoiding breakdowns, our techs often catch smaller repairs that prevent your system from performing efficiently.
A regular and planned service keeps your equipment running effectively, which can lower your fuel and energy bills. It also leaves these appliances in our capable, experienced hands, so you never have to worry about it. For more information on our planned maintenance services, call us today.
Financing Available
We offer convenient financing options via SNAP Home Finance
Indoor Air Quality
As humans, we spend a lot of time indoors – an estimated 90% of our time. Protect your air quality with our professional-grade residential solutions.
Our capable and certified staff install filtration systems to screen dangerous chemicals and particulates out of your air. This includes filtering:
Animal Dander
Dust
Fire Retardant Chemicals
Forest Fire Smoke
Mould Spores
Off-Gassing Chemicals
For more information on improving your indoor air quality, call our staff today.
We have an expansive list of residential services. Our most popular ones are listed below. For our full list, give us a call or send us an email.
List of Residential Services
We have an expansive list of residential services. Our most popular ones are listed below. For our full list, give us a call or send us an email.
HVAC Services:
Air Filtration, Purification Systems, And Replacement Filters

Bathroom And Kitchen Exhaust

Drip-style And Steam Humidifiers

Existing Home Furnace, Air Conditioning Installations, Service & Maintenance;

Garage Forced Air And Radiant Heaters 

General Exhaust
Heat Recovery Ventilation (HRV)
New Home Furnace, Ductwork, Air Conditioning Installations;

Residential Grilles, Registers, Digital, And Programmable Thermostats

Residential Zone Systems 
Mechanical Services
Gas fireplaces
Gas fitting
Plumbing Installation, Repairs, And Servicing
Electrical
Electrical Installations
Electrical Repairs
Why Choose Us for Your Home Repairs?
The 50 years that we served Grande Praire have been guided by the same principle as when we started – providing high-quality services proven over time. From the time we founded our company to the present day, we have come a long way – serving the community in every way we could. Today LSM not only provides services for homes but also for commercial, industrial and manufacturing purposes. Our pride is in the kind of value we add to the lives of our customers. Reach out to us today to experience the high-quality service we are proud of.