You deserve a lasting finish. Powder coating is a versatile coating option for any metal – from common household appliances, vehicle parts, and industrial equipment.
What is powder coating?
Powder coating uses fine, electrostatically charged pigment particles mixed with resin to create a seamless finish on metal products. These particles are sprayed on a grounded metal surface, causing them to cling to the surface – even on intricately designed or uneven surfaces.
Once the powder is applied to the metal, it's cured using our large oven. When properly cured – and applied by our expert team – powder coating provides a powerful, protective finish on metalwork to last the years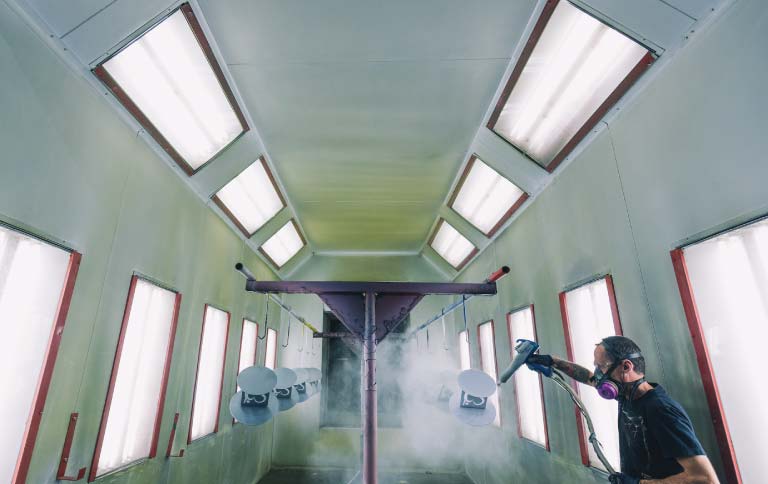 Vibrant Colours, Various Applications
Powder coating is available in a variety of vibrant colours, textures, and gloss-levels. This includes high and low gloss, metallic, and transparent finishes. Our experienced staff skillfully offer smooth, wrinkled, and matte finishes.
Powder coating is the ideal finish for a number of metals. As long as the metal can withstand the heat of the curing oven and hold an electrostatic charge, LSM can apply a powder coating finish. This includes such metals as aluminum, galvanized, steel, stainless steel, brass, copper, bronze, satin coat, and others.
Powder Coating Services:
Bumpers
Canopies
Commercial Vehicle Decks
Decorative Architectural Pieces
Doors
Fencing
Fire Pits
Furniture
Gates
Headache Racks
Hitches
Hoods
Lift Kits
Lighting Fixtures
Metal Cabinetry
Plumbing Fixtures
Railings
Rims
Rocket Launchers
Running Boards
Sled/Atv Decks
Toolboxes
Vehicles Parts For Sleds (Skidoos), Quads (ATVs), Motorcycles, Boats, Planes, and Bicycles Parts
Vents
Common Industrial Applications:
Fittings
Flare Stacks
Hardware
Pipes
Safety Equipment
Tools
Walkways
Sandblasting Services
Also known as abrasive media blasting, sandblasting is a powerful component of powder coating. At LSM, we use sandblasting to prep the metal surface: smoothing any imperfections, removing rust and other debris, and ensuring the longevity of your powder coating finish.
Manufacturing Services
Our powder coating services are often requested alongside our manufacturing services. To receive a quote on a combination of services, call or visit our shop today. Otherwise, learn more about our manufacturing and fabrication services here.
For more information on any of powder coating services, call or visit our shop today.